5 reasons to get the 2016 GMC Terrain SLE-1 SUV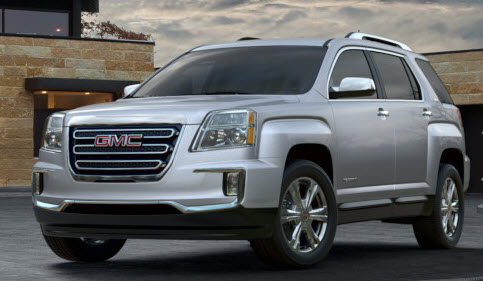 In the middle of a new car search, but not quite sure which make and model is right for you. Do you not know if a New GMC truck for sale is the one for you or maybe you need a different model? At Roseville Automall we are here to help! If you're looking for a luxury compact SUV, the 2016 GMC Terrain SLE-1 is just the choice for you! This particular model comes with a myriad of features and exceptional functionality and comfort. What more could you ask for?
Need a few more reasons to invest in the GMC Terrain SLE-1 SUV? Look no further. Below are our top 5 reasons to get this model:
This model offers exceptional fuel economy MPG of 20 city and 29 highway.
Available in 6-speed shifting automatic transmission.
Great safety features including: anti-theft alarm, traction control, post collision safety system, airbags, stability control, tire pressure monitoring, dust sensing headlamps, immobilizer and much more.
A multitude of convenience features including: cruise control, power steering, tilt and telescopic steering wheel, destination download and much more.
Various comfort features including the likes of air conditioning, simulated alloy steering wheel, interior air filtration and more.
If you are looking for cars for sale in Roseville, CA, you have certainly come to the right place. Learn more about the 2016 GMC Terrain SLE-1 SUV by arranging a test drive.
Get the 2016 GMC Terrain SLE-1 SUV from Roseville Automall in CA today!
Does the 2016 GMC Terrain SLE-1 SUV sound like the type of compact and economical SUV for you? If so, get in touch with us at Roseville Automall to learn more about the features and functions included in each new model.
Feel free to contact us via email or telephone, pay us a visit or carry out an online new car search on our website in order to browse through our vehicle inventory.