2015 Ford F-150 – Future Ford Tough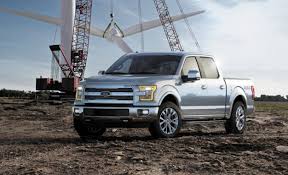 The future of Ford tough is here! Introducing the all-new 2015 Ford F-150: a giant leap forward in truck technology.
The jobs keep getting tougher and gas prices keep climbing. Life demands the trucks of the future will to be stronger, more dynamic and efficient than ever before. To answer this need we used military grade, aluminum alloy for the body and high strength steel for the backbone of this working machine.
We are always developing new technologies. We rethought conventional assumptions and charted the future of tough. As we strive to do what's right, not what's easy. Which is why the all-new ford f150 is designed to deliver even greater towing and hauling capacity than the previous generation of Ford trucks. That's real world competence. That's why we own work.
To attain efficiency without compromise we start with what a pickup truck has to do to get the job done as quickly, skillfully and effectively as possible. Then we maximize efficiency without sacrificing any performance or capability. That's a winning recipe for truck owners.
The numbers are in: 325 hp, 375 pounds per foot of torque, Max payload 2250 pounds in 8500 pound max towing. Like its predecessor, the 3.5 L Eco-Boost™, the next generation 2.7 L eco-boost dynamo accomplishes great low-end torque and capability combined with efficiency, taking Eco-Boost™ technology to a whole new level..
We didn't just build it. We made it possible. Visit us here at the Roseville Automall. Our knowledgeable staff and striking showrooms are the perfect place to find your new Ford F- 150. If you are researching new or used cars in the Sacramento area turn your attention to the experts.
The Roseville Automall – Driven To Be The Best !!!