2015 Kia Optima – Designed to Draw Attention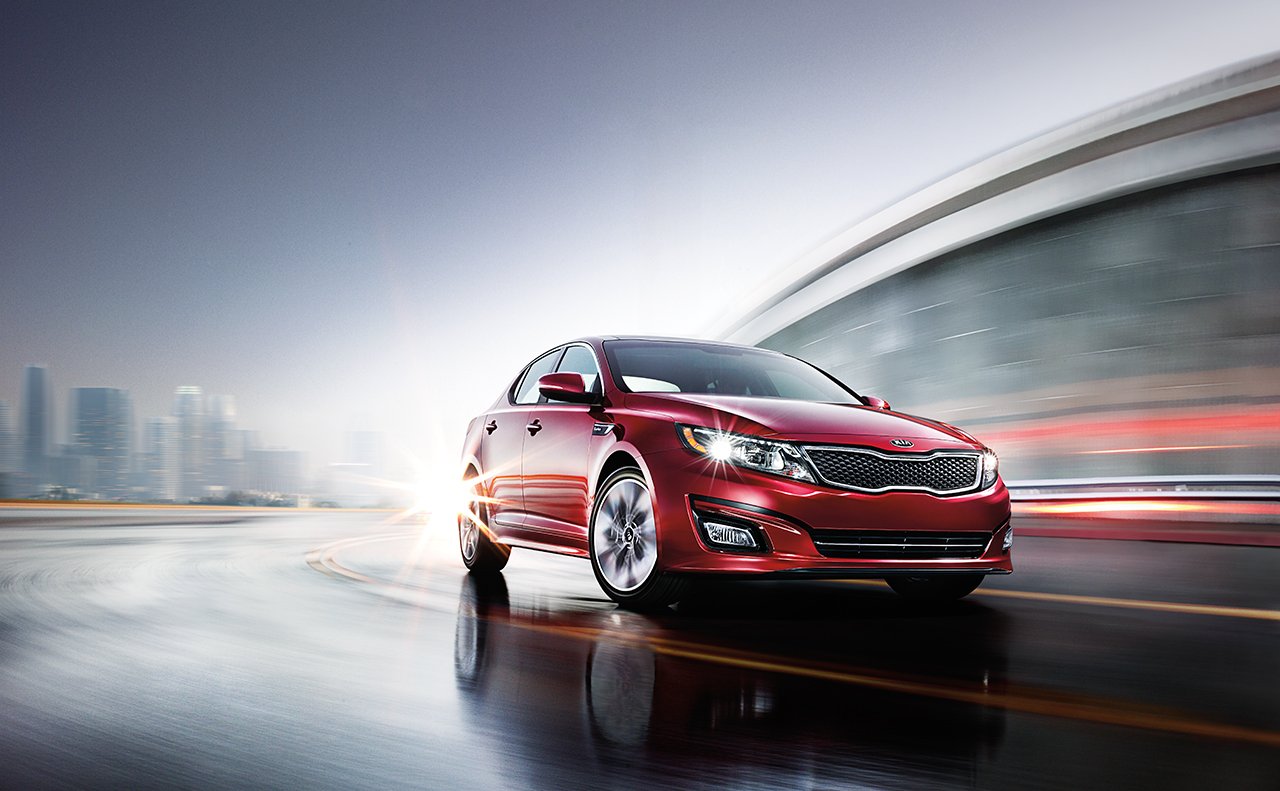 This is not your mother's midsize sedan; though she may ask to drive it. Introducing the brand new 2015 Kia Optima:  Warning – the following contains information that may cause involuntary sweating, excitement, and general feelings of awesomeness.  Reader discretion is advised.
The first thing people often say when seeing the new face of Kia is "That's a Kia?" Answer: "Yep". The Optima's aggressive grill, bold headlights, and alloy wheels offer a striking appearance.
Take a look inside- The 2015 Kia Optima combines detailed craftsmanship with superior technology to create a unique driving experience.  Its first class leather seat trim and ventilated front seats give comfort to driver and passengers.  Bluetooth and UVO eServices infotainment system with voice command navigation are also available. Match these features with an elegant and powerful sound system and you'll see why people love the Optima.
Eyes in the back of your head – The Optima's available rear-camera display, with optional back up warning system, shows everything behind you to ensure your safety when backing up and parallel parking.
Performance that Thrills– The available six speed, 2.0 liter, 274 HP gasoline direct injection (GDI) turbocharged engine is sure to excite.  Say it with us "TURBO-CHARGED!" Wasn't that fun? Wait till you get behind the wheel and experience it yourself. Oh, yeah and available hybrid models boast a healthy 36 mpg city/40 hwy. 
Peace of Mind– Did you know the Optima received a 5 star crash safety rating from the National Highway Traffic Safety Association?  We hope you never get in a crash, but should the unexpected occur, you can rest easy knowing you have the latest technology and safety features available at your fingertips.
Whether its entertainment, comfort, or convenience, every piece of advanced technology we put into a Kia must enhance the driving experience.  We've redefined the standard for midsize sedans.  Durability, Innovation, and Performance… that's the Kia way. Test drive your Kia Optima today at the Roseville Automall.  Our expert staff is available to help you find the car that's right for you.  Whether you're searching for new or used cars for sale in the sacramento area turn your attention to the experts.
        Also if your looking for alternative to car rental you can look for different style and luxury depending on your location, you can go from sport car test drives all the way to Limo Rental Solutions. There are plenty of options around, Zipcar is the  world's leading car sharing. Incuding on how much does zipcar cost, Check this to know more about it.    
The Roseville Automall – Driven To Be The Best !!!