Safety Requirements for Age and Weight Limits for Children in California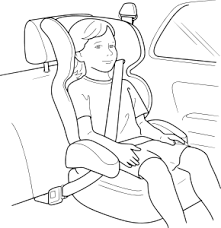 Often, much of what we think we know deserves a refresher course.  We felt this might be a good time to bring something to light that is often not discussed: child safety requirements in the great state of California. There are many regulations that parents don't know about or simply choose to ignore which puts their child's safety at risk, if you and your child unfortunately get injured in a car accident then you should call a personal injury lawyer or a car accident attorney as soon as possible. A personal injury lawyer can help you protect your rights and get the proper compensation you deserve.
Rear facing– Children 1 and under are to ride rear facing car seat.  This is done to protect the developing spine of your child.
Forward facing– Once your child is over the age of one they are strong enough to make a transition.  It's time to change their car seat to the forward and upright position.  They must stay in the car seat until they exceed the limits of the car seat provided.  Once they have exceeded the maximum weight/height for the car seat, a booster seat is in order.
Booster Seat– Bet you didn't know this one!  Did you know that as of November, 2012 every child under 8 years of age must ride in a booster seat. Some car seats already have a booster seat feature built into them to help with the transition.  There are lots of fun and safe options to choose from.
No Booster– Once your child has reached the age of 8 and/or 4'9" or taller may ride without a car seat or booster.  Passengers 16 and older are to adhere to California's Mandatory Seat Belt law.
Know the facts and know the law.  If you have other questions about how to install a car seat or other child safety equipment in your car feel free to call us. When it comes to finding the right new or used car dealer in Sacramento, CA turn your attention to the experts of the Roseville Automall.
The Roseville Automall – Driven To Be the Best!!!