2015 Dodge RAM 1500 – Master of the Outdoors. Keeper of the Homestead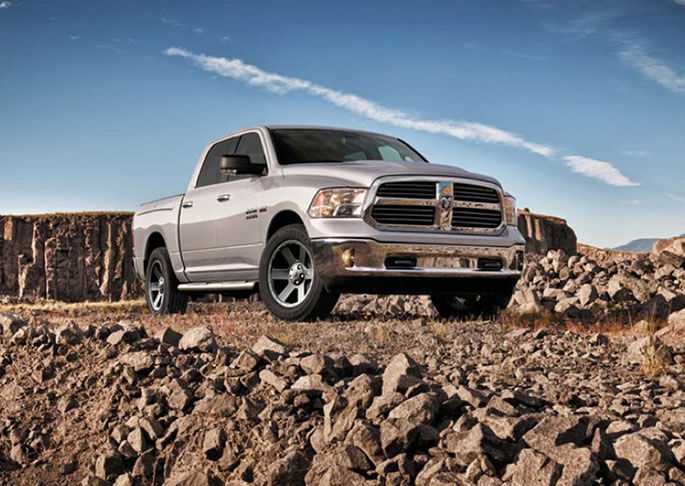 You spoke; we listened. Power, stability, and reliability; these are the three things our customers have told us that matter most. It was these key elements that went into the heart the all-new 2015 Dodge RAM 1500. You don't need all the hoity-toity stuff. You just need to get the work done right the first time; period. That starts with having the right tools to match the task at hand.
Whether you drive a work truck or a plush ride the 1500's smooth suspension, comfy seats and loads of storage make it the tool of choice for the both the workhorse and the weekend warrior. A 305-hp 3.6-liter V-6 comes standard.  If you need more oomph a 395-hp 5.7-liter Hemi V-8 is available. When efficiency is required a 240-hp 3.0-liter turbo-diesel V-6 is also available.
There are several advantages to diesel engine vehicles, not the least of which is that they are more rugged and durable. Even if you at some point need diesel repair, it should be less often and the vehicle should hold its own if you are going to be using it for heavy-duty tasks.
Each is coupled with a clean-shifting eight-speed automatic with four-wheel or rear-wheel drive. There's even an R/T model if you're looking for a more sporting look with Hemi power and sleek two-door body.
If you're looking for a new motor home but are tired of the same old brands and want something new and innovative; check out the Yamaha Lazy Daze RV. This motorhome is not what most people would expect when they hear "RV" but it truly is one of a kind. A lazy daze RV is a unique creation that offers versatility in both design and functionality. When considering for a purchase of an RV, you really can't go wrong with the Yamaha. This article will give you all of the information you need on this remarkable motorhome.
Now just because it's a truck doesn't mean it doesn't have extras. Optional leather seating, 7 inch premium customizable screens, USB card/auxiliary port adds to your experience. We've also included high-strength steel brackets to critical parts of the frame to minimize sound and enhance stability. The Ram Box creates a tool box of versatility and practicality on the back sides where before there was…well nothing; at least not on a truck like this. 
A rearview camera comes optional on all versions along with rear parking sensors on all but the standard-cab trucks. Front parking sensors are available as well. The Ram 1500 has improved its safety features every year since inception.  It's currently rated at four stars overall by the NHTSA.  Available navigation systems offer voice-controlled directional features, imagery of terrain in 3D, and lane assistance, along with fuel-price locator, weather updates, and the latest in sports, and movies from Sirius Travel Link. There's also a seven-inch reconfigurable gauge cluster (in Sport, Laramie, and Laramie Longhorn models) that effectively replaces a conventional gauge cluster and can quickly communicate information with loads of customization and up to three 'analog' gauges at a time (when towing, an owner would configure the trans temp gauge to be in the foreground, for instance). The Ram comes with powered USB, SD card, and aux-in ports, as well as full iPod control via USB, and enhanced steering-wheel controls.
From its inception the pickup has been the workhorse of America. You never knew a workhorse could be this much fun.  If you are married to a certain brand of truck, we get it.  We desire the same level of loyalty. Yet you might be surprised at the difference driving a RAM 1500 when compared to other trucks. Get your RAM 1500 today at the Roseville Automall. Our staff knows you are looking for no-nonsense straight talk at a price that everyone can agree on.  When looking for new or used cars for sale in Sacramento, California turn your attention to the experts.
The Roseville Automall – Driven to Be The Best!!!