2015 Subaru Forester – Your Adventure Awaits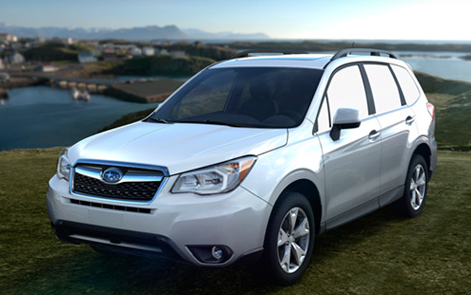 Unforgettable experiences and adventures await the fortunate few like yourself; the future owners of the 2015 Subaru Forester.
Available with up to a 2.5 liter 250 hp DOHC engine rated 32/25 mpg hwy/city, the Forester has plenty of power to get you where you need to go and back again.  It's smooth six speed transmission, Vehicle Dynamics Control (VDC), Traction Control System (TCS), and 4 wheel disc brakes add exhilaration, control, and confidence to your driving experience regardless of the terrain or driving conditions.
Part of owning a Subaru means trusting us with some of your most valuable possessions; which is why Subaru continuously pushes safety standards beyond the minimum required. Available Eyesight Driver Assist, Blind-Spot Detection, Lane Change Assist, and Rear Cross Traffic Alert use the latest in radar sensor technology systems to create an invisible barrier of protection for you and your family. Keep in mind these should never replace exercising sound judgment and safety when operating your Subaru, but it's nice to know someone else is looking out for you and your family.
Owning a vehicle is more than just transportation from here to there.  It's become an essential part of your life.  That's why so many people love their Subaru Forester.  It has just the right combination of agility, speed, room, and comfort that you recognize only Subaru can deliver.
Go ahead; make the short trip to the Roseville Automall where you can test drive the new 2015 Subaru Forester and start making memories of your own to last a lifetime.  Where will your Subaru adventure take you?  Only you know the answer to that question.  All we know is every adventure has a beginning. Yours starts here at the Roseville Automall, your premier choice for new and used cars in the Sacramento area. Turn your attention to the experts of the Roseville Automall.
The Roseville Automall – Driven To Be The Best!!!