Car Antennas – Coming In Loud and Clear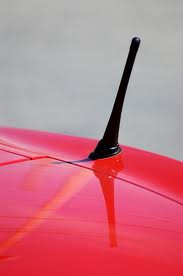 Antennas have been around forever, but we really take them for granted.  These innocuous pieces of metal have been bringing us entertainment, news, and weather for nearly a century.  Like everything else, they just keep getting better and better.
Antennas were first incorporated in "horseless carriages" during the 1920's.  Back then the only radio available was AM frequency and only required a ferrous core receiver.  Because radio stations were much fewer in number one could listen to radio stations for miles without the need for an external antenna.
As time went on radio signals and antennas became more complex.  The onset of FM radio and AM radio stations popping up everywhere gave rise to a new need for better design for improved reception. New steel and alloy designs began to come onto the market.
Most everyone enjoyed these innovations, but found the antenna to be unsightly.  In fact, it wasn't long before luxury car engineers were commissioned to develop tiny motors to extend and retract the antenna so as to minimize this eyesore from public view as much as possible.  Some manufacturers developed an antenna that was imbedded in the car windshield.  Though they offered fair reception, they were costly to manufacture and replace.
Somewhere along the line engineers got creative and found that the same length of antenna could be coiled and still offer quality reception.  This significantly shortened the antenna length and the eyesores of yesterday became all but unnoticeable.
Today, AM, FM, DAB, satellite radio, keyless entry, tire pressure monitoring systems, cell phone capability, Global Positioning Systems (GPS), High Speed Packet Access (HSPA) allowing internet access, Wi-Fi, Bluetooth, Electronic Toll Collection, and Collision Advanced/Avoidance Radar have now become the norm.  It's mind boggling to think of all the innovation that has gone into these creations that make our lives so much easier.  You don't need to understand it; you just need it to work.
That's where we can help.  Come visit the Roseville Automall.  Our expert staff and technicians will help you find the right antenna equipment for the job.  Whether it is a keyless entry system; GPS; or upgrading any other antenna equipment, we are here to help you find the solutions you need. If you are researching used cars dealers in Sacramento, CA turn your attention to the experts.
The Roseville Automall – Driven To Be The Best !!!