Style around town in the 2016 Infiniti QX50 3.7 SUV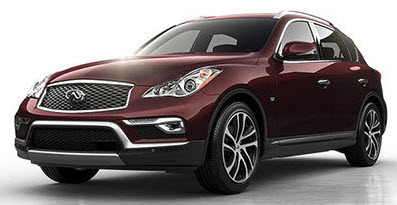 Looking for cars for sale in Roseville CA? Look no further! At Roseville Automall we have a variety of both new and certified pre-owned vehicles for you to choose from. Our sales consultants will also happily advise you on the best new car options available to you! Let's take a look at one of our best options…
Arrive in style and comfort with the 2016 Infiniti QX50 3.7 SUV! This particular SUV should be a top option for anyone carrying out a new car search. If you are looking for reasons to invest in this vehicle, there are many. Take a look at some of the Infiniti QX50 3.7 SUV:
4 exterior cameras for heightened awareness.
Intelligent full speed range cruise control.
Touch screen navigation system with voice recognition.
325-hp 3.7l V6 engine with 267 lb-ft of torque.
Intelligent AWD that instantly adapts to changing conditions.
High performance front mid-shift platform that offers exquisite balance and handling control.
Vehicle Dynamic Control (VDC) to correct over-steering or under-steering.
Advanced 4-wheel antilock braking system.
Lane departure warning and lane departure prevention.
Advanced airbag system.
At Roseville Automall we offer both new car inventory and certified pre-owned vehicles too. We also assist clients with obtaining vehicle finance for their purchase. Need assistance with this? Simply get in touch with us!
Get the 2016 Infiniti QX50 3.7 SUV from Roseville Automall in CA today!
If you're looking to get your hands on the 2016 Infiniti QX50 3.7 SUV, book a test drive with us at Roseville Automall CA. We offer a wide range of cars for sale in Roseville,Sacramento and look forward to assisting you to get into the driver's seat of the car of your dreams.
At Roseville Automall we pride ourselves on being a used car dealership that operates with integrity. All of our vehicles, new and used, are presented to the market in exceptional condition. If you would like more information on our range of cars for sale, feel free to contact us via email or telephone, pay us a visit or carry out an online new car search on our website today.