The Future is Now: 2016 Acura NSX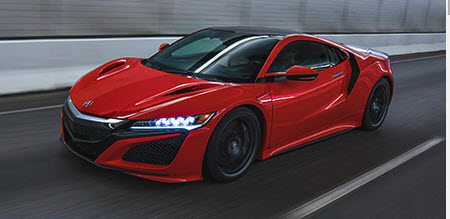 If you're the kind of driver who stays ahead of the curve, Car and Driver says the 2016 Acura NSX will be the answer to your dreams! This car is technical to the max and will be the hottest supercar to hit the market in years, winning the race over Porsche, Aston Martin, and the Viper. "With weight-saving construction combined with a hybrid powertrain that has three electric motors and a mid-mounted twin-turbo V-6 making more than 550 hp, the NSX promises pulse-pounding performance paired with everyday usability. A nine-speed dual-clutch automatic and all-wheel drive are standard, along with exclusivity and head-turning design," lauds Car and Driver.
The NSX's 9-speed/dual-clutch AT is standard, and the design of this futuristic vehicle will take your breath away. Aluminum casting technology integrated with high-strength steel makes the car safer and lighter; the floor panel is carbon fiber and you can choose an aluminum sheets or carbon-fiber roof.
Your 2016 Acura NSX will be the ride for every kind of day.
For Sirius Coffee House days, select quiet driver mode. You can ramp up the aggression level with sport, sport-plus and track with the 4 driver-selectable modes.
Specifications
Vehicle
mid-engine, twin-front-/mid-motor, 4-wheel-drive, 2-passenger, 2-door coupe
Engine
twin-turbocharged/intercooled DOHC 24-valve 3.5-liter V-6
Motor
F: two permanent-magnet synchronous AC
R: permanent-magnet synchronous AC
Total System Power
560 HP*
Transmissions
F: 1-speed direct drive
R: 9-speed dual-clutch w/manual shifting mode
Dimensions
Wheelbase
103.5?
Length
176.0?
Width
76.4?
Height
47.8
Performance*
0–60 mph
2.7sec
Top Speed
190mph
Because lifestyles change, we want to be along for the ride of your life: whether you're single, with children and teens, or readying for retirement, Roseville Automall will be there for you. If you have questions about your next auto purchase or trade-in, call or contact our auto professionals today!
The Roseville Automall – Driven To Be the Best!!!