Airbags – Are They Dangerous?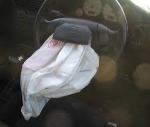 When a collision occurs, your car will come to a complete stop in seconds. The contents, however, continue moving forward, possibly causing damage or harm. The airbag is a car safety feature that deploys on impact to cushion the occupants, protecting them during a crash.
To do this, the airbag must inflate in a fraction of a second and must cushion the passenger's forward motion. A sensor tells the airbag to inflate when a collision occurs of about 10-15 miles per hour or greater. If you were hurt or a loved one died as a result of a defective airbag, contact a defective airbag liability lawyer immediately for free consultation.
But can that airbag harm a passenger and under what circumstances?
For the largest selections of cars for sale in Sacramento, visit us today.
The Roseville Automall – Driven To Be The Best !!!